Publicly Owned Utility Locating
What is "Sunshine 811 Call"?


Sunshine 811 is Florida's one-call "call before you dig" center, which is a free service required to mark utilities before digging projects. One call centers cover public utilities, but do not locate design tickets or provide approximate vertical measurements. Earth View can assist with all locates, those covered or not covered by Sunshine 811, and specifically the private sector.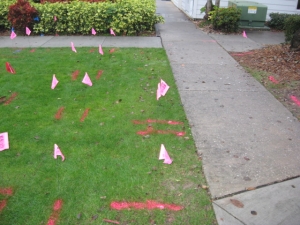 Earth View recommends having precise utility locating performed during the design phase since utility records are not always entirely accurate. This can cause delays or unexpected costs when they are solely relied upon for digging projects. Earth View can assist with locating where Sunshine 811 leaves off.
For more information regarding Earth View's services, or if you would like to schedule service for an upcoming project, please call us at (239) 434-5200 or visit our Schedule Service page and submit your information.
Schedule Service